Our Sweet Seniors, Sendoff + Spring Graduation
With Commencement just coming to an end, we're so proud of all our sisters' accomplishments here at Clemson! But of course, the sadness is sinking in as we realize this means they are leaving us here at Zeta Nu… It's a good thing our sisterhood is forever, and this is not the end for our friendships! There are so many bright futures ahead for EACH of our 42 sisters in the class of 2019! Read more from Adelaide, Ashleigh, Mary Katherine, Sarah, Madison, Emily, and Logan to hear about their plans after graduation and about their time here at Clemson and in Alpha Delta Pi!
Graduating Sisters + Post Grad Plans!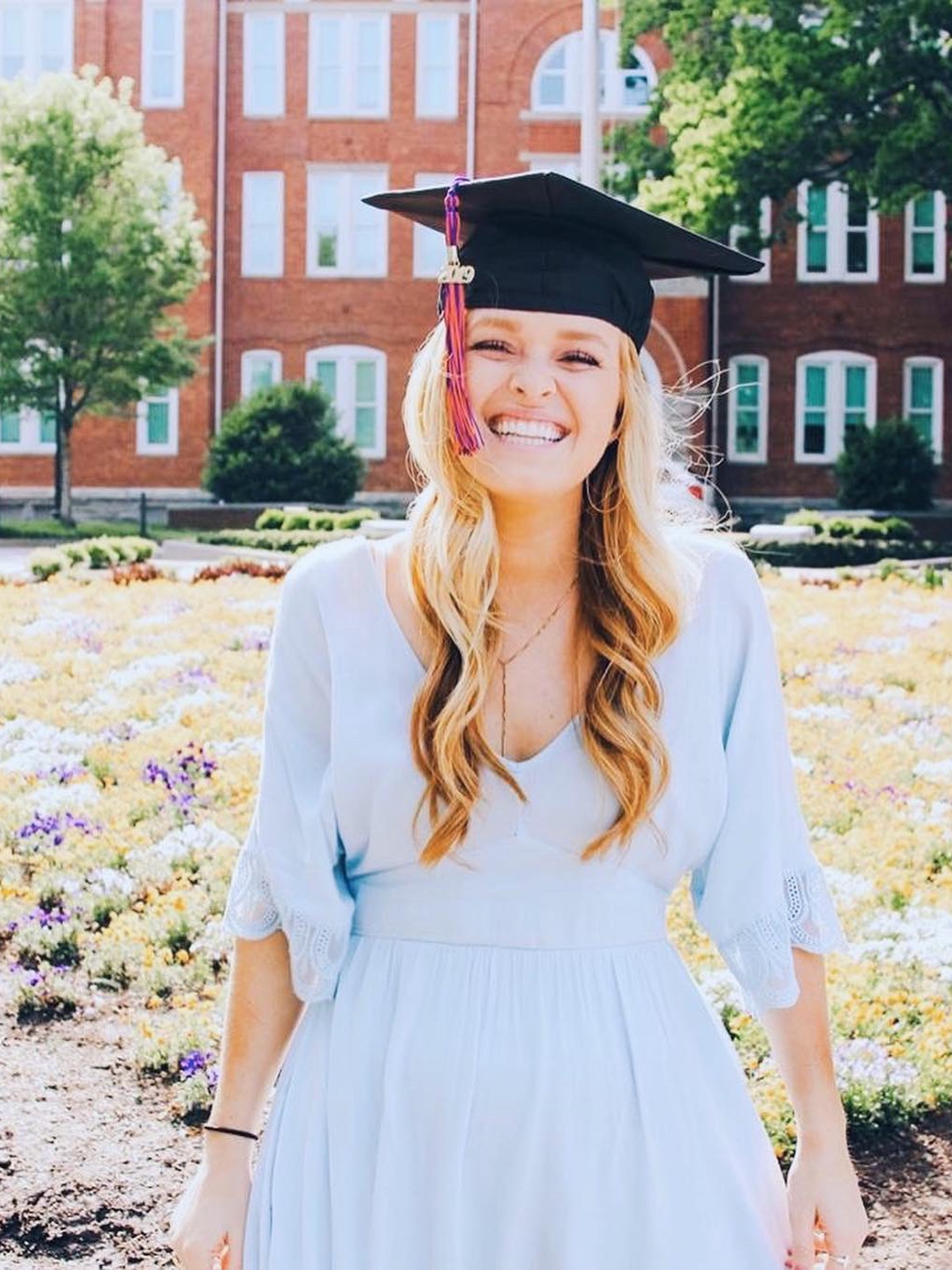 post grad plans: I will be participating in a year-long fellowship program called the Raleigh Fellows in which I'll be given the opportunity to experience unique professional, developmental and spiritual growth!!
"ADPi has felt like home to me since Round 1 of Recruitment and still does four years later. I can't imagine my experience at Clemson without ADPi. It's given me some of my greatest friendships, memories and role models who have empowered me and believed in me for the last four years."
post grad plans: I will be moving to Birmingham, Alabama to work as a Financial Institution Specialist at the Federal Deposit Insurance Corporation. I am training in Washington D.C. this summer to learn how to examine banks and then will get to travel around the state examining for the agency while pursuing my MBA at the University of Alabama-Birmingham.
"I am so excited to jump into the real world but wrapping up these last few days in Clemson was definitely bittersweet! I am so thankful for my time here and in ADPi and especially blessed to have been encouraged by my sisters along the way. It's so much easier to work harder when you have your best friends doing their best beside you and inspiring you to do the same!"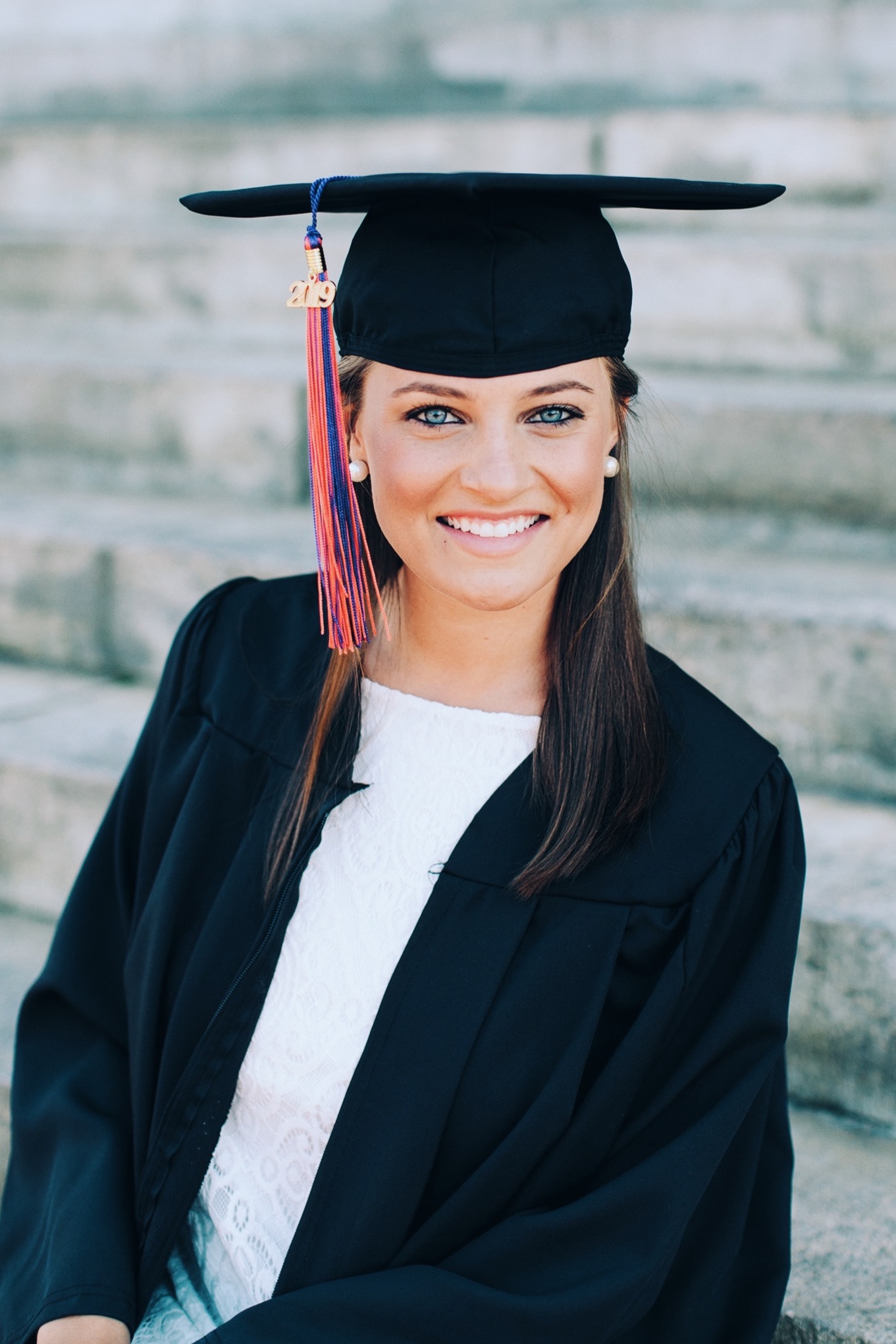 post grad plans: I am going to MUSC for the Master's in Hospital Administration Program
"Coming from the Bridge Program as a sophomore, I am so glad I went through recruitment & joined ADPi. It has been such a memorable experience to be part of such an amazing sisterhood and group of ladies. I truly could not see myself anywhere else! I will treasure each and every memory after I leave Clemson."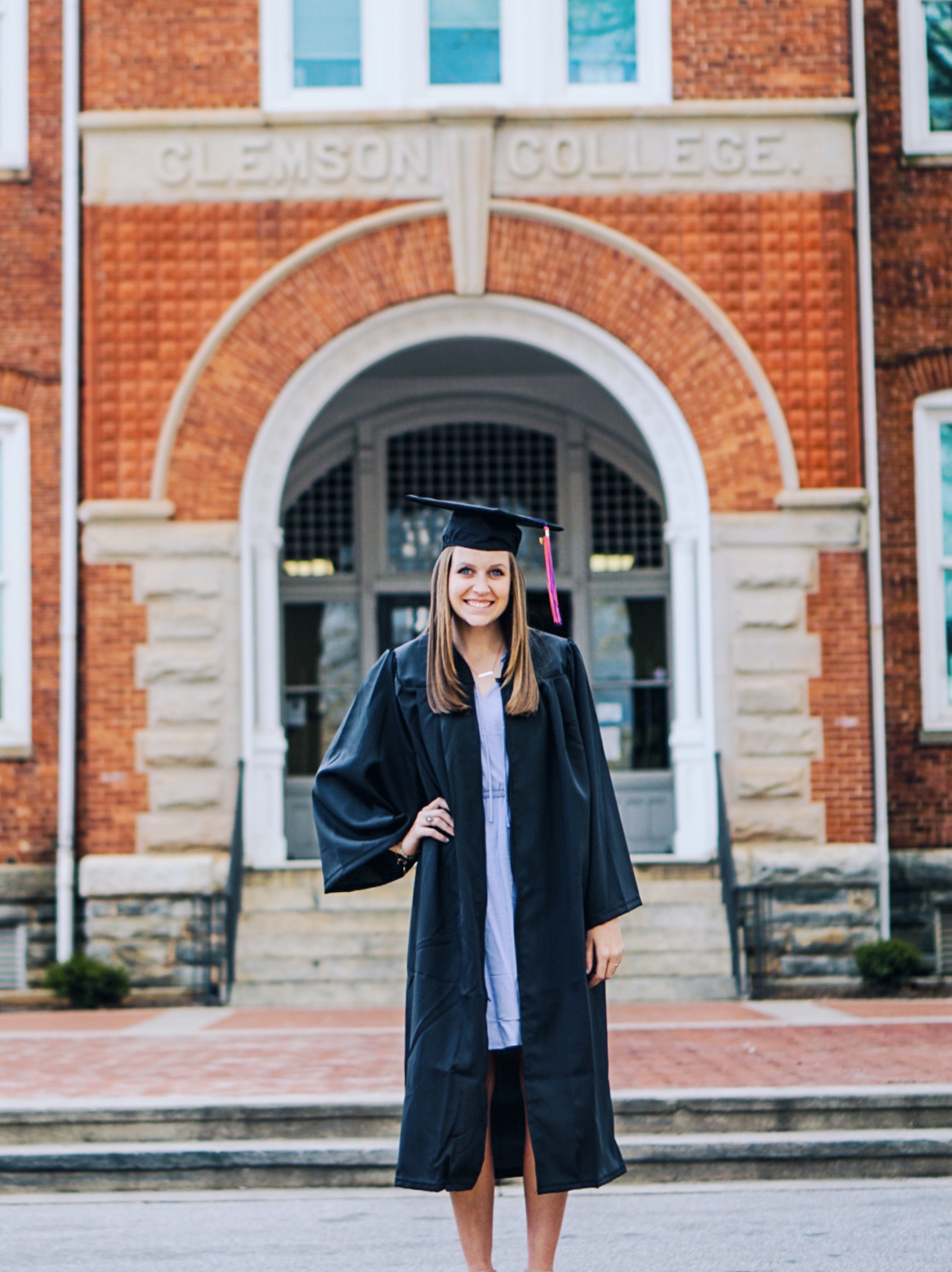 post grad plans: I am returning to my elementary school, Bethel Elementary School, to teach first grade!! I'm so excited to set up my very own classroom, teach first grade, and work with the same teachers who taught me when I was elementary age!
"Clemson and ADPi are definitely two of the hardest things I've had to leave. Clemson has given me the greatest experiences: traveling for football games, lazy nights with friends, wonderful classmates, the list goes on. Many of these wonderful experiences have been shared with ADPi sisters. I was lucky enough to live with five other sisters for an entire year! To this day, we still get together and it's like we never left! This year, I've lived with my favorite football travel buddy, Abby Martin, + one of my longest friends, Becca Cockman. I'll never be able to say enough what living with these girls has meant! While I know I have to leave in a few short days, I know both Clemson and ADPi will always follow me through!"
post grad plans: I will be attending MUSC for their program Master of Health Administration program, learning how to run a hospital one day!
"ADPi has given me my best friends, support system, and greatest memories. They have pushed me to do my best in everything that I do, no matter what. My favorite memory of all time is definitely something ADPi is responsible for: being surrounded by my best friends on a Tuesday morning during spring break, lounging around in our hotel room in Key West, and getting an email saying that I had been accepted into MUSC. Being surrounded by them during one of the most influential moments of my life is something that wouldn't have happened if I wasn't a Clemson ADPi. I can't describe the joy that I felt as they all screamed and yelled "congratulations" and the love that I felt from them. Thank you Clemson ADPi for giving me memories that are priceless and unforgettable."
post grad plans: I'm getting my Doctorate of Physical Therapy at MUSC in Charleston!
"It has been the most exciting, loving, strengthening, happiest, awesome four years. Clemson gave me ADPi, and ADPi gave me the greatest friends & roommates I could have ever asked for -- everything I didn't know I wanted and needed! It's provided me with a strong support system, networking and connections, a special bond with my mom (a pi), a little who is now a best friend, and endless belly laughs. I can't express enough how thankful I am!"
post grad plans: I will be pursuing my MD at the Medical University of South Carolina!
"Clemson is more than a University; It's more than getting a degree and even more than the best four years of my life. Clemson is a feeling — Something that only people that can say "I went to Clemson" will understand. I am so thankful for a college experience that gave me priceless opportunists and friends that will last a lifetime. As I leave Clemson, I know this experience has shaped me into the best possible version of myself. Standing arm and arm with the class of 2019, singing the alma mater for the first time as an alumni, I felt certain that I will always have a place in this Clemson family. Ever loyal to this university for challenging me every day, fostering my passions and dreams and giving me a forever home."
Senior Sendoff: Passing the Gavel
Saying goodbye isn't as easy as we wish it was! On April 24th at Y Beach, we sent off all our seniors with many hugs, reminiscing the many memories we shared with them. Commemorating, celebrating and congratulating each sister— we are truly so proud of all they have accomplished and will continue to do so in their futures! Each senior is represented in white, and the rest of the diamond family is wearing pastels. Each senior "passed the gavel" down to their diamond family, reminding them to leave a legacy of their own! as they say congratulations to their sister! Read more below to hear from Lacy & Elizabeth, littles who bid goodbye to their big diamond sisters!
Lacy Hylton, Alpha class '16
"The senior sendoff was such a bitter sweet event. I was honored to be able to be there for my big, Ashton, but it made the reality of her graduating even more real. I was able to read her the sweetest letter that her mom and dad had written her, which I know meant so much to her. It was such a meaningful event, as it really capitalized on our chapter's sisterhood. I didn't realize how many alumni and people it took to put this event on and prepare the dinner the seniors had afterwards. We really are apart of the best sorority that has such supportive alumni who cherish their sisters. Ashton has literally been like a big sister to me and the sweetest friend. I cannot imagine my Clemson experience or cheerleading without her, but she really has made such an impact on me and everyone she has come in contact with these past four years."
ELizabeth ray, Alpha class '16
"I met my big when I was going through recruitment and I never thought that we would be so close! ADPi has given me one of my best friends from the start and experiencing senior send off was so bittersweet. I am so excited for her to excel in her future career and the rest of her life but will miss her so much here in Zeta Nu! Thank you ADPi for the sisterhood you have given me with all of my sisters, but especially with my big!"
Spring Graduation— Congrats Class of 2019!
The time has finally come for our seniors despite their pleads to stay! This year's spring gradation was held in LittleJohn Coliseum on May 9th and 10th. What a special day to see our sisters walk across the stage and receive their diplomas— a lifelong dream come that has finally come true! As these sisters turn their rings and go from deltas to pi's, their time here in Zeta Nu has left an impact on us all! We are so proud of all their accomplishments and each of them have such bright futures ahead of them! Read more below for a list of all 42 spring graduates and memories from graduation. As the rest of the chapter says goodbye for now, they know they are always welcome home here at Zeta Nu!
2019 Spring Graduates
Ally Abbott, Reagan Adams, Brooks Babson, Madison Belissary, Mary Kathryn Brown, Adelaide Bynum, Alyssa Calamari, Caroline Cavendish, Becca Cockman, Kaycie Cornelius, Shelby Crosby, Harriotte Davis, Layna Deneen, Xan DuBose, Carter Dwight, Blaine Eads, Carman Franklin, Ashleigh Gwarjanski, Hannah Haskell, Hope Keller, Baylee Kennington, Kat Lenti, Sarah Lynch, Heather Madden, Abby Martin, Logan Martin, Morgan Montero, Ellison Murray, Julie Nierstedt, Grace Orie, Mary Catharine Patterson, Ashton Roberts , Katelyn Rogers, Chelsea Rose, Emily Scircle, Anna Scott, Greer Seay, Emily Senn, Lizzy Shaw, Emily Shook, Cameron Smith, Lilly Turner, Caroline Welch, Blakeley Yandle & Kaylin Young
Abby Martin, Alpha class '15
"Clemson instills gratitude in all of its students during our time here, but graduation truly provided an opportunity for all of my fellow PC '15 sisters to look back and reflect with thankful hearts on our four years together. You know what they say: you spend 4 years working toward a degree to leave this place, and once you do, you spend a lifetime trying to get back. I can't wait to come back and visit my forever home with my ADPi sisters. Thank you Clemson ADPi for lifetime friends, countless memories, and amazing opportunities!"
Becca COckman, Alpha class '15
"I will forever be thankful for the best four years at Clemson. From the strangers that became family to the beautiful sunsets and of course two National Championship wins, each and every moment has been so special! I'm excited for this next stage of life as an alumna as I join the thousands of people who have graduated from this incredible university!"
Cameron Smith, Alpha class '15
"Graduating from Clemson and officially becoming an alumna has been such a bittersweet experience for me. While I'm so excited for what's coming next, leaving this school that has given me the best four years and the best of friends is so sad! Luckily, I know that these friendships I have made as a student will be there for me as an alumna too and that Clemson will always be my second home!"
Grace Orie, alpha Class '15
"As a transfer from Furman, I have truly felt like Clemson ADPi is my home and the girls are similar across chapters, by being smart, kind, courageous and supportive (I have been fortunate to experience two different chapters!) ADPi has truly brightened my college experience and created memories and friendships I wouldn't have otherwise. My favorite Clemson thing is my weekly run down the dikes across to the row docks around sunset. I cannot believe I am a senior and my goal this year was to complete the Clemson bucket list before I graduate- and I definitely did that! Grateful for everything Clemson has given me and what amazing timing to transfer and experience two national championship wins!"
Forever grateful to Clemson for giving us the best four years at the best university, Ever Loyal!
Make sure to keep up with us this summer on Instagram, VSCO, and Facebook to see more about what we're up to and find out when our next blog post is up!